Reviews Build Reputation
Customer reviews are the core of building a good reputation online. In a world where online reviews feature high up on search results for businesses of all sizes, it's vital that yours reflect what makes your company amazing. A notable 70% of consumers will leave a review for a business when asked. So how do you obtain them? With AMPLIFY, it's never been simpler.
You'll gain access to a centralised platform that facilitates the efficient, seamless generation and management of real customer reviews right at your fingertips. Tailored to your precise needs, AMPLIFY can be easily integrated to automatically send feedback invitations to your customers. With no extra hoops to jump through, you'll provide your consumer-base with a streamlined reviewing platform that's convenient, accessible and intuitive.
Get AMPLIFY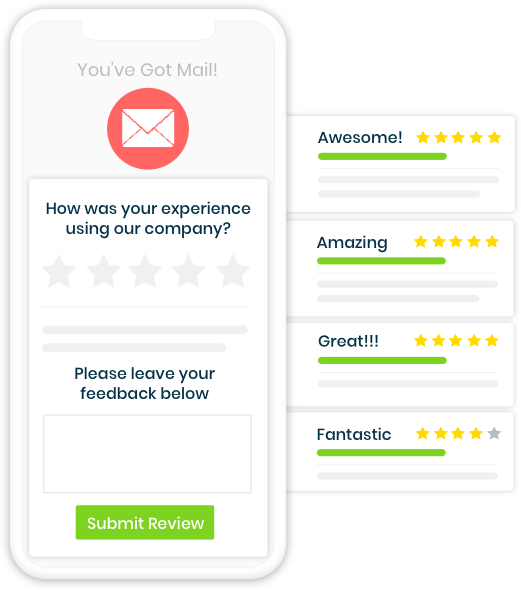 85%
Of consumers trust online reviews as much as personal recommendations
70%
Of happy customers will leave a review when asked
68%
Of consumers will form an opinion of a business after reading 1-6 reviews
Find Out What People Really Think
A winning reputation wins more customers. Beyond bulking up your review numbers, AMPLIFY lets you gauge exactly where you stand with your target market. Considering 93% of local consumers read online reviews to determine whether a local business is good or bad, the importance of gathering positive reviews cannot be understated. Much of the time, consumers tend to wait until an extreme or unusual experience occurs before leaving a review.
By actively prompting your customers to review your company, you'll get better reviews more often than sitting by and waiting for them to roll in. Not only will you gather more reviews with AMPLIFY, you'll also get a clear picture of where your brand stands overall. We deliver you a white-labelled report on a monthly basis, giving you the rundown on all the essential statistics you need to know, plus additional data to help hone your strategy your way.
Get AMPLIFY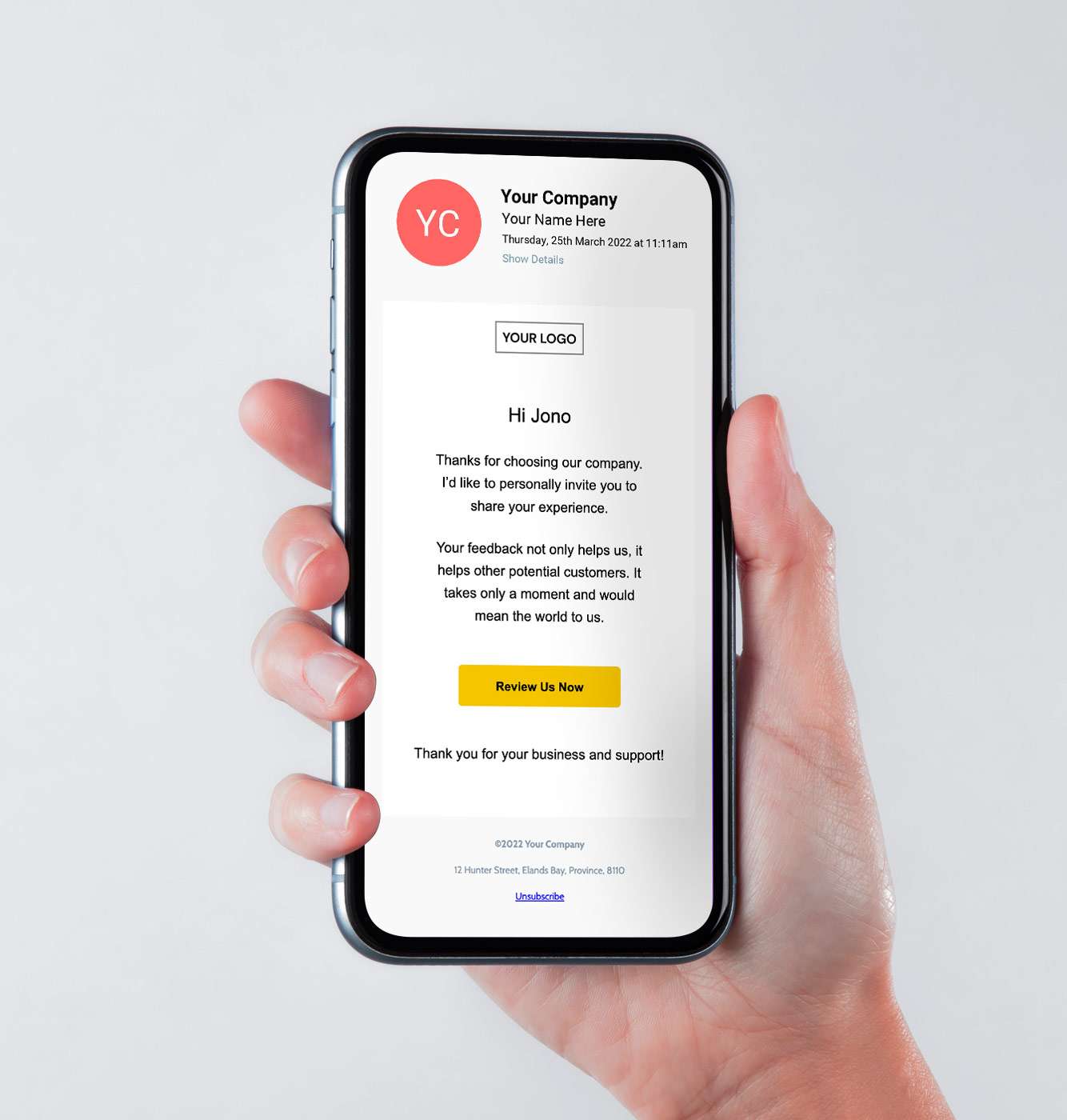 Use Reviews to Win Their Trust
How is your business' feedback loop looking?
A healthy feedback loop consists of:
Asking for feedback
Categorising it accordingly
Acting on the provided feedback
Following up with customers after feedback is shared
AMPLIFY lets you address each step to build and fortify your brand's feedback loop in one easy platform. When taking into account that 95% of consumers who had a bad experience will give the company another try if it is dealt with properly, you'll also stand a better chance to rebuild customer trust when needed.
On top of review generation, AMPLIFY allows you to manage and respond to them proactively. This gives you the perfect opportunity to engage with your customer-base meaningfully, letting you create more memorable experiences for them by showing you really care.
Get AMPLIFY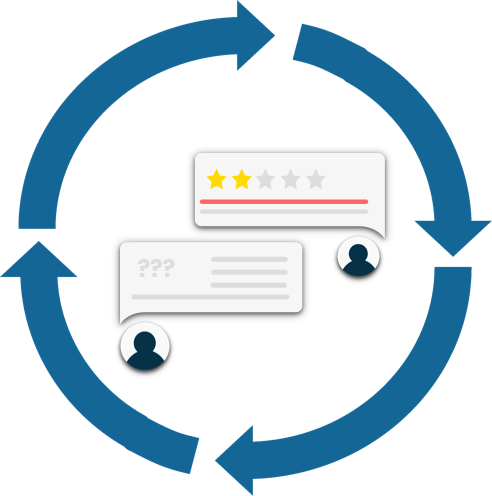 Build A Better Brand With AMPLIFY
Above all else, AMPLIFY lets you leverage your brand power to drive better results for your customers as well as your business. With considerable insight into your customers' thoughts and feelings about your brand, you'll have what you need to not only improve customer acquisition rates, but turn new customers into loyal ones.
Happier customers mean more revenue. Research shows a totally satisfied customer contributes 2.6 times as much revenue than a somewhat satisfied customer, or 14 times as much revenue as a somewhat dissatisfied customer. By staying up-to-date with your customers' sentiments on AMPLIFY, you are letting them know that promises of better experiences are kept as well as made.
Here at Removify, we're all about empowering companies to take control over their online representation. Whether your business is a large multinational enterprise or a local establishment, a positive online reputation serves as a powerful marketing tool. That's why we're bringing AMPLIFY to you, so you can utilise your feedback loop to its highest potential. Why not try it today?
Get AMPLIFY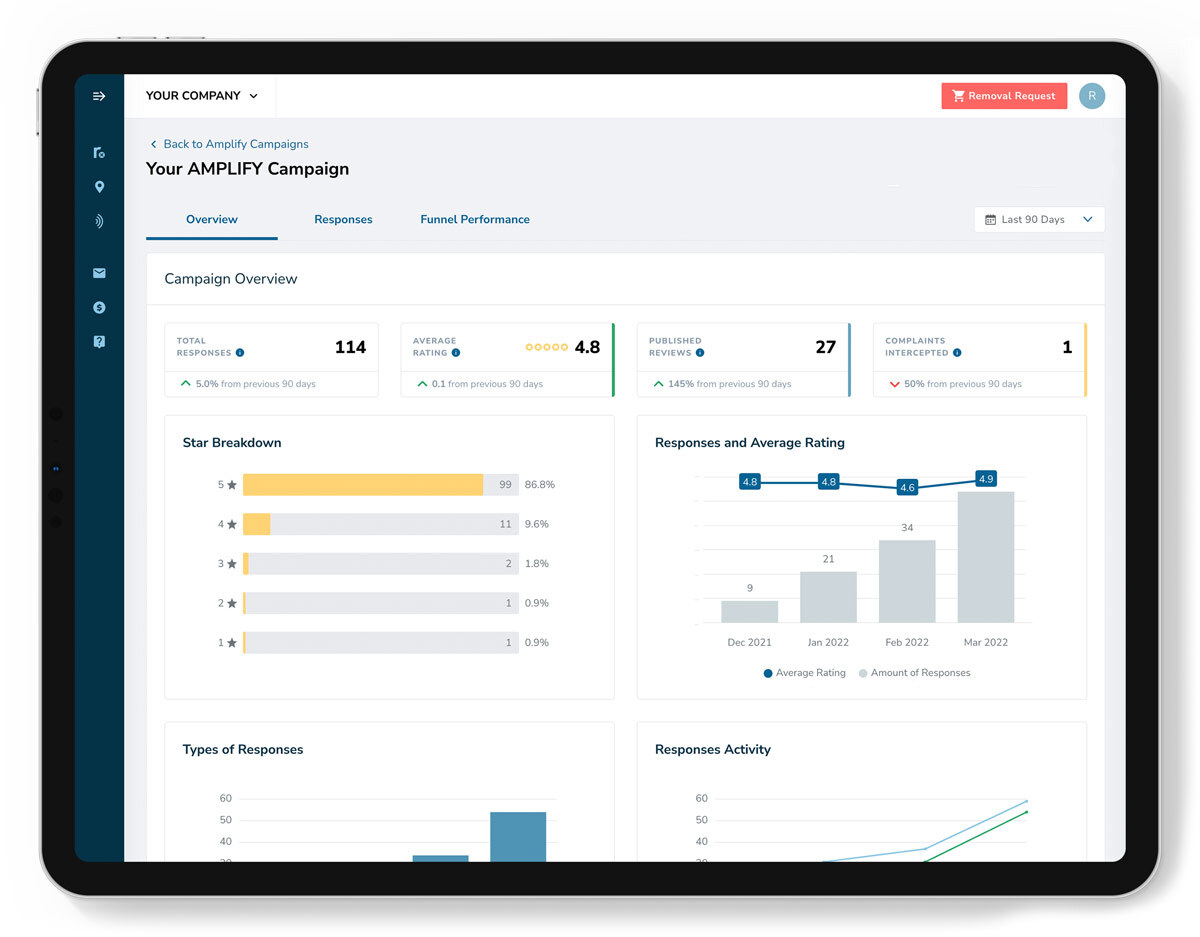 Based on 160+ reviews
John Anderton

Shout out to the team at Removify. In 2 weeks they removed some fake Google reviews that we had unsuccessfully tried to get removed for a year. Thank you!

Lyn Jolly

Hugely appreciate how Removify were able to have a review removed that was posted against our business that did not relate to us. Great job!

James Tan

Such an awesome team! They got our negative review down within 12 days. A great reference for my Singapore business community! Professional service Removify provide. Thank you Removify.

Adam Sturt

Removify were able to manage the situation fast and efficiently, they regularly updated us on the progress and successfully removed all false reviews. We cannot thank them enough.

Paul Zdzitowiecki

Removify, do exactly what they promise. They removed a illegitimate review on our google my business page. Service was excellent and the portal easy to use.

Ross Kinsella

Great job in removing a fake google review. Easy, minimal work required by myself and overall great job.
We remove damaging online content. If we don't succeed, you don't pay.